Johnny Gibson, Thomas "Buddy" Scott, and Sammy Hicks
QUALITY MEAT - EXCEPTIONAL SERVICE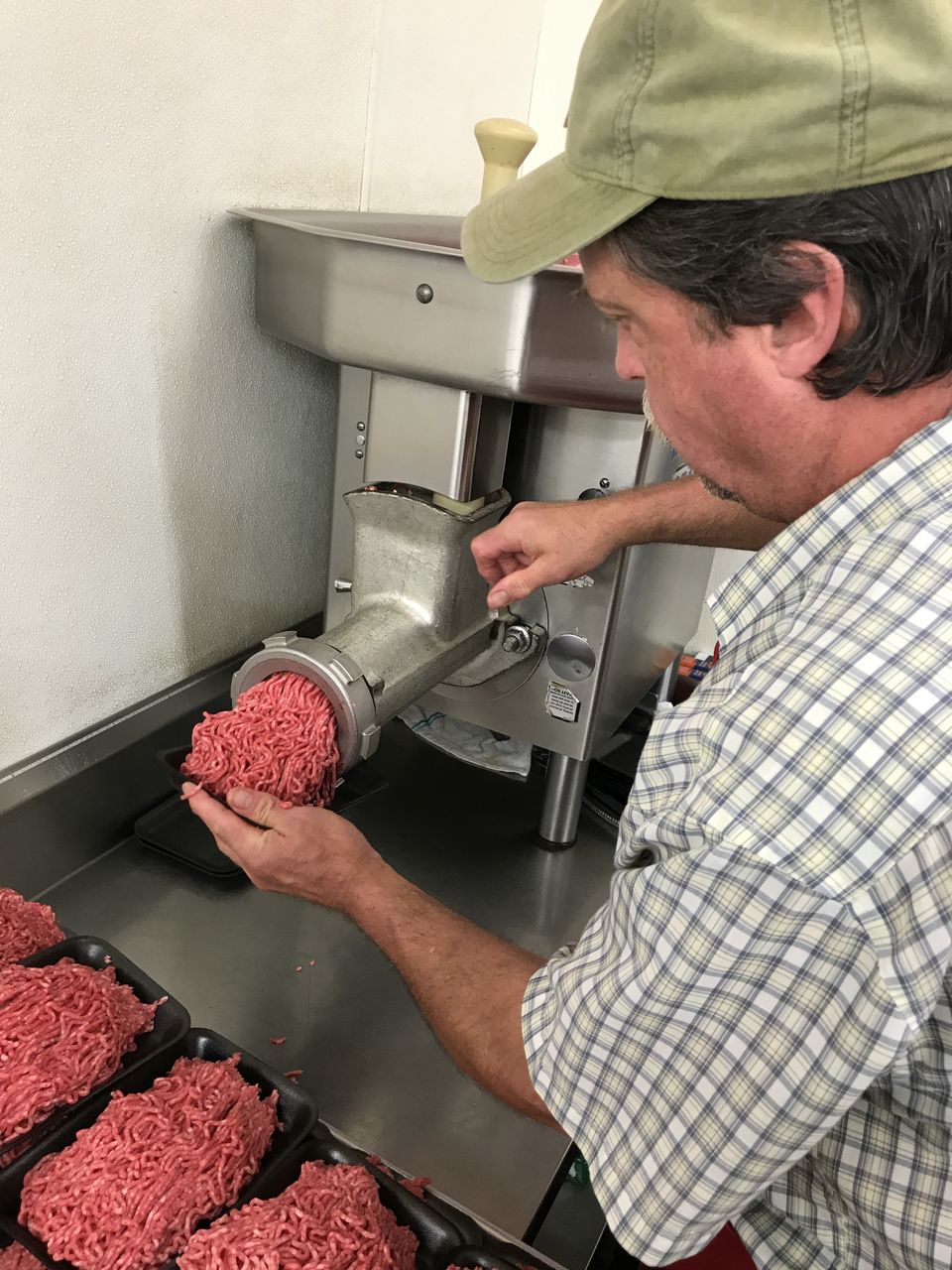 For generations, Kings Red and White of Durham has upheld a tradition of providing only the freshest meats to our customers.
We specialize in quality meat products. Cut daily!
We offer Family Meat Bundles and Meats by the Case!  Please stop in or call today for more information.
See below for a list of the quality meats we provide our customers.
OUR QUALITY MEAT SELECTION
BEEF
London Broil
Seven Bone-IN Chuck Roast
Chuck Boneless Roast
Rump Roast
Stew Beef
Cube Steak
Denver Steak
Ribeye Steak
Bone-In Ribeye Steak
T-Bone Steak
Porter House Steak
Bone-In or Boneless Prime Rib
Whole Ribeye Loins
Beef Tenderloins
Filet Mignon
Beef Kabobs
Flank Steak
Short Robs of Beef
Beef Back Ribs
Hamburger : GROUND DAILY
      - Sirloin, Chuck or Ground Beef 
CHICKEN
Split Breast
Whole Chicken Fryers
Old Fashioned Fryer Cut-Ups
Cut Wings
Leg Quarters
Wings
Thighs
Drum Sticks
Fryer Halves
Hens
Livers
Gizzards
Boneless Tenders
Boneless Fryer Breasts
Boneless Thighs
Chicken Kabobs
Chicken Necks
Chicken Backs
Chicken Feet
PORK
Assorted Chops
Center-Cut Chops
Babyback Ribs
Spare Ribs
Pork Tenderloin
Pork Riblets
Cubed Pork Chops
Boneless Pork Chops
Pork Kabobs
Table Ready Small Spare Ribs
Seasoned Ribs
Bone-In or Boneless Pork Roast
Crown Roast
Pig Feet
PORK
Neck Bones
Boston Butts
Whole Pork Shoulder
Hog Jowl
Smoked Ham Hocks
Smoked Neck Bones
Rope Sausage
Hot or Mild Sausage
Slab Bacon
Pigs Ear
Chitterlings
Pic Wings
Hog Maws
Pork Brains
Souser Loaf
TURKEY
Fresh Wings
Fresh Necks
Smoked Necks
Smoked Wings
Frozen Turkey
Frozen Breast
Hen Wings
Turkey Chops
Ground Turkey
Turkey Sausage
Turkey Legs
WHERE OUR MEAT IS FROM

Beef :  Nebraska Beef (Midwest Region)

Pork :  Wilson, North Carolina

Chicken :  Thomasville, North Carolina
MEAT BY THE CASE
Fresh Slabs : 10# or 40# Box
Fresh 1/2 Slabs
Shrimp
Frog Legs
Crab Legs
Duck Halves
Duck Breast
Rabbit
Lamb Chops
Leg of Lamb
Cornish Hens
Quail
Lunch Meats
Brightleaf Hotdogs
SEAFOOD
Oysters - Gallon, Pint,  1/2 Pint, Quart
Crab Legs
Shrimp
FAMILY MEAT BUNDLES

We are unable to provide Meat Bundles at this time due to our supply chain breaking down. We apologize for any inconvenience.